ERINNERN:AT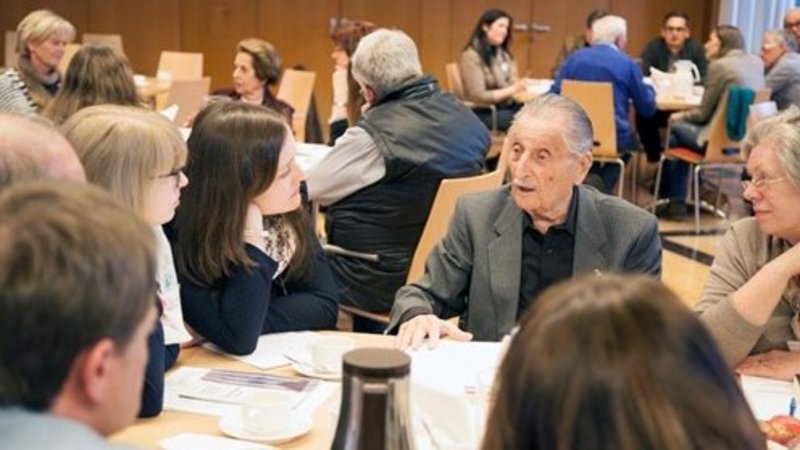 With its programme ERINNERN:AT the OeAD deals with teaching and learning about National Socialism, the Holocaust and the prevention of anti-Semitism through education. The programme promotes the transfer of historical and methodological and didactic knowledge as well as reflection on its significance for the present. The OeAD implements its programme ERINNERN:AT on behalf of the Federal Ministry of Education, Science and Research (BMBWF).
Educational projects and further education
In committees and projects at international, national and local level the OeAD with its programme ERINNERN:AT advocates Austrian remembrance education and its further development. One focus is on the organisation and implementation of further education for teachers on the topics of the Holocaust, National Socialism, anti-Semitism and racism. Besides Austria-wide training courses and conferences the central offers include seminar trips to Israel, which are embedded in university colleges of teacher education courses.
Teaching materials and contemporary witness programme
The OeAD develops teaching materials and teaching concepts as well as learning websites and apps that are suitable for use both in the classroom and in distance learning and out-of-school youth education.
In addition to training on the use of specific teaching materials and teaching platforms the OeAD also provides training on the integration of eyewitness interviews in the classroom and supports teachers and Austrian eyewitnesses in the preparation and implementation of them. The valuable exchange between survivors and witnesses of national socialism and the holocaust, teachers and pupils is managed and supported with annual seminars within the framework of the witnesses programme.
Structure as a network
The OeAD programme ERINNERN:AT operates as a decentralised network. One or two network coordinators represent the programme in each federal province. They are the contact persons for teachers in the region, they develop teaching materials and organise further education. Via its project website and a special newsletter the OeAD provides information about current developments in remembrance culture and remembrance education – internationally and Austria-wide as well as specifically for each federal province. www.erinnern.at
expand all
collapse all
Main areas of work:

National and international cooperation in educational projects
Further education and training programmes as well as conferences for Austrian teachers
Seminar trips to Israel embedded in Austrian university colleges of teacher education courses
Teaching and learning materials, learning websites and apps for use in the classroom, in distance learning and out-of-school youth education
Historical tours and (school) exhibitions
Talks with Austrian contemporary witnesses at schools and in online formats
Up-to-date information about remembrance culture and Holocaust education on the website www.erinnern.at

Target group:

Teachers, educational professionals, teacher training students as well as teacher training institutions, stakeholders in the Austrian education system, and interested members of the public